Play Blackjack for free or real money at the Bovada Casino!
If you are new to Blackjack or consider yourself a beginner, we recommend reading our
How to Play Blackjack article
first!
Using our free Blackjack Trainer is simple and straightforward. First customize the options to mimic the version of blackjack that you would like to practice. The blackjack chart under "Help" will update depending on the options and rules of the game.
There are seven variables to tweak the Blackjack Trainer. To adjust these settings click the Options button:
1) Whether the Dealer hits or stands on soft 17:
Dealer hits on soft 17 – worse for the player
Dealer stands on soft 17 – better for the player
2) Are you allowed to double-down after splitting?
Double allow after splitting – this is VERY important for the player and is typically the default for Vegas casinos.
Double as first option only – you may only double down as your first play, not after splitting.
3) Is surrender allowed?
This is a rule that allows you to fold your hand immediately, prior to seeing the Dealer's hole card, and sacrifice your hand to save half your bet.
Allow surrender – surrender is typically allowed in 6 and 8 deck shoe games in Vegas. This is an excellent rule for players.
No surrender – surrender is rarely allowed in single deck and double deck games.
4) How many decks are you playing?
8 decks – Vegas shoes are typically made up of 8 decks these days.
6 decks
4 decks
2 decks
5) How much does Blackjack pay?
Blackjack in a 6 deck or 8 deck shoe in Vegas typically pays 3:2, but there is a recent and disturbing trend for the big casinos to have blackjack tables that only pay 6:5 on tables with a shoe. The casinos are targeting casual players that are not aware of this difference. Be sure to find the tables that pay 3:2!
Blackjack pays 3:2
Blackjack pays 6:5 – this is typical for a double deck or single deck blackjack game.
6) Can you re-split your hands and if so, how many times?
You are always allowed to split your cards the first time, but if you are then dealt the same card again, can you split your cards again? In a shoe game, you are typically allowed to re-split up to 3 times.
Re-split allowed (3)
Re-split allowed (2)
Re-split allowed (1)
Re-split not allowed
7) Type of game you would like to practice.
Hard mode – provides more difficult scenarios to test you.
Splits only – play just splitting hands.
Soft hands only – play just soft hands (hands with an ace).
Random mode – purely random shuffle.
Once you've set up the table to your linking, the Blackjack Chart will update itself to show the optimum blackjack strategy to play. To view the chart, click the Help button. This will overlay the chart and show you the correct move for your last play.
Now click the Deal button to get started!
The point of this trainer is to play perfect blackjack strategy. You start with $1,000 of play money, but what's more important is your playing accuracy. You'll see that your moves will be tracked for your session providing you an accuracy rating. Your goal is to make the perfect strategic decision each time. You can start by consulting the blackjack chart to help you make the right decisions. But after a while, you should play without looking at the chart.
In the screen shot below, you can see that this player has made 24 correct moves and 1 incorrect move for an accuracy of 96%.
Blackjack Trainer Scores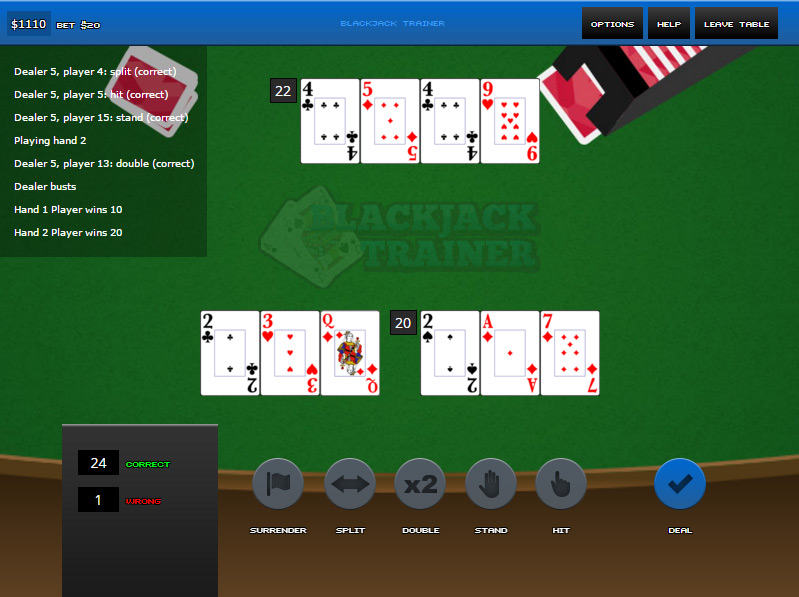 When using our Blackjack Trainer, pay close attention to this score, this is more important than your dollar balance. Random luck can sway your balance around, but as long as you are playing perfect blackjack strategy, you will give yourself the best chance of winning money long term!
To start learning optimal blackjack strategy, you should strictly follow the plays outlined in our blackjack charts. Based on the specific rules and options you set up, our blackjack charts adjust and prescribe the best strategic moves to make when playing blackjack.
Our blackjack charts tell you how to play your hand based on the rules and options of the game and the Dealer's up card.
Looking at our blackjack chart, the number listed horizontally across the top corresponds to the Dealer's up card. Find your hand (the player's hand) along the left column of the chart and cross-reference your hand with the Dealer's card to determine the play you should make.
Chart choices change the charts. For example, one chart is used when the dealer stands on soft 17 and another is used when the dealer hits on soft 17.
Other choices are used for things like re-splits. The chart doesn't change here but decisions need to be checked. For example, if the player has re-splits turned on and he gets a third eight against a six after splitting the first two eights then the trainer will check to make sure he makes the right decision which is to split again. If re-splitting is turned off here then the trainer will check to make sure the player makes the right decision which is to stand.
There are a couple of notes to make when reading our blackjack charts. First, the X symbol – Surrender/Hit – this means that if the table allows Surrender, then you should surrender your hand. Otherwise, take a hit.
Similarly, the U symbol – Surrender/Stand – if the table allows for Surrender, then you should use it and surrender your hand. Otherwise, just stand with your hand.
Blackjack Chart with Surrender

If you have any feedback or suggestions, please use our contact form below.
Thank you for visiting Blackjack-Trainer.net. If you'd like to share strategies or your experiences playing blackjack, please visit our Casino Strategy Forums hosted by our partners at CasinoIntellect.com!
Practice blackjack and counting cards at a live dealer casino! Play online with real dealers and real cards. Learn more at Live Dealer Sites.com.
For our visitors outside of the USA, we recommend playing blackjack at Ladbrokes Casino. Peruse this list of Ladbrokes promo codes and choose the best Ladbrokes promo code for you and receive one of many welcome bonuses.
We are big fans of Texas Holdem and play regularly. If you like playing poker, check out the FlopTurnRiver poker forums here. Since 2003, FTR has been one of the top sites for poker information.
We also love Fantasy Football! FantasyFootballers.org offers free tools and information for all you hard core football fans. Register your new account with this promo code for Draftkings to receive up to a $600 welcome bonus or check out FanDuel and enter this promo code for FanDuel for up to $200!
Sport fans should also visit Mobile Sport Bets.com which reviews the best apps and mobile websites for sports betting on the go!
And if you're looking to place casino wagers on the go, Mobile Pocket Casino.com is one of the best resources for the top mobile casino slots and games.
For our USA visitors, you can visit Casino Sites USA for the top places to play blackjack and other casino games.